About Dr. Alan David
For over 15 years, Dr. Alan David has served the neurology needs of Brooklyn and Greater NYC. Dr. David utilizes the most modern technology available to give his patients a smooth and comfortable experience. To complement his medical efficiency, Dr. David prides himself in maintaining a friendly and accommodating patient manner.
Before landing in Brooklyn, Dr. David studied medicine at Nova Southeastern University in sunny Florida, and he completed his residency in neurology at Allegheny University Hospital. Dr. David is certified by the American Osteopathic Board of Neurology and Psychiatry, and his professional memberships include the American College of Neuropsychiatrists. He also earned a prestigious fellowship in Neuro-Rehabilitation from the Burke Rehabilitation Hospital.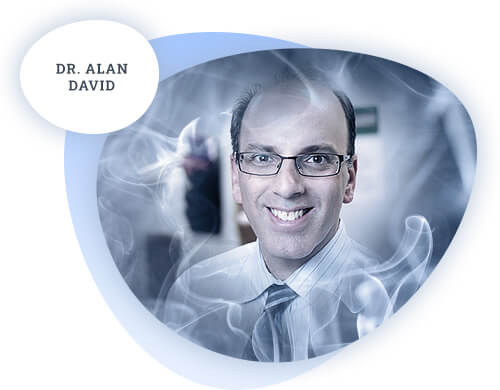 In his spare time, Dr. David reads and stays fit. He also loves learning about and coming to understand different cultures. Dr. David is happy to treat patients in three languages, including Spanish and Creole.
Office location
Be Well Primary Health Care Center
3007 Farragut Rd
Brooklyn, NY 11210
Education and background
Specialties
Neurologist
Practice names
Be Well Primary Health Care Center
Board certifications
American Osteopathic Board of Neurology and Psychiatry
Education and training
Medical School - Nova Southeastern University, Doctor of Osteopathic Medicine
Drexel University, Residency in Neurology
Flushing Hospital Medical Center, Internship in Internal Medicine
Burke Rehabilitation Hospital, Fellowship in Neuro-Rehabilitation
Professional memberships
American College of Neuropsychiatrists
American Osteopathic Association
Languages spoken
Patient reviews
All reviews have been submitted by patients after seeing the provider.
Dr Alan David is a wonderful doctor and he addressed the problems I am facing right away. He truly cares for his patients.
December 4, 2020 - Ali R.
Everyone was very professional and kind, the doctor took the time to listen to my concerns and answer all my questions
April 1, 2020 - Khadija B.
I felt very comfortable and appreciated . Everything was taken care of at that appointment very convenient.
November 7, 2019 - Patrick G.
Always a pleasure meeting with Dr. David. He always reassures me that everything will be okay and I will get better soon.
April 28, 2015 - Beonca H.
The staff is very organized and professional. Dr. David wants to get to the bottom of your issues and fix them.
More than 1 year ago - Yash K.
He was awesome!!!!!!. You can see that he is very knowledgeable and that he cares about his patients.
January 2, 2019 - Kalisha D.
The doctor was very professional , i do recommend the doctor
August 25, 2020 - Inva K.
Very polite and professional, he knows what he was doing and talking about
August 1, 2019 - Grace L.
I thought that he was a very good doctor. A professional at his field.
January 17, 2018 - Juliet S.
My visit went well and the staff were all very helpful and nice. Dr. David listened to my concerns and assisted me in what I was needing for my visit. I highly recommend him to any one to his office and if I need to see him again, I would go back to him.
Less than 3 months ago - Jermaine S.
He's an excellent neurologist. Truly cares about his patients. After a thorough examination, he explained how human body and mind works. Great staff. Would recommend 10/10. Keep up the good work.
December 16, 2020 - Ali R.