About Dr. Joseph Yellin
Dr. Joseph Yellin is a native New Yorker who received his medical degree from the College of Osteopathic Medicine in Des Moines, Iowa. He interned at the United States Public Health/Services Hospital in Staten Island, NY and completed his neurology residency at the Kings County-State University of New York Downstate Medical Center in Brooklyn, New York. He has been in private practice in New York City for more than 20 years.
Dr. Yellin is an attending physician at Lenox Hill Hospital, New York Community Hospital and Beth Israel Hospital. He has served as the Chief of Neurology and Acting Medical Director of New York Community Hospital and was a member of the Ethics and Professional Conduct and Quality Improvement Committees at New York Methodist Hospital.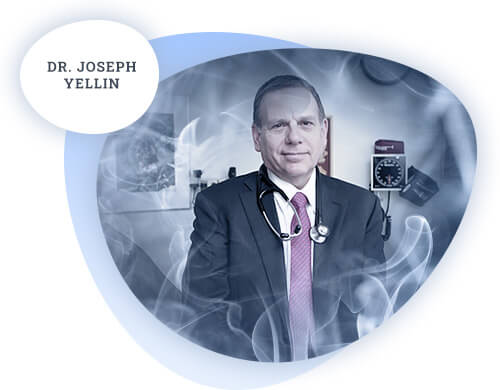 Dr. Yellin takes a patient-centered, holistic approach to diagnosing and treating his patients. He has been named a Top Doctor in the New York Metropolitian Area by Castle Connolly Medical Ltd from 1997-2010.
Office locations
Dr. Joseph Yellin
130 East 77th Street
New York, NY 10075
Education and background
Specialties
Neurologist
Practice names
Dr. Joseph Yellin
Hospital affiliations
Lenox Hill Hospital
Board certifications
American Osteopathic Board of Neurology and Psychiatry
Education and training
Medical School - Des Moines University, Doctor of Osteopathic Medicine
State University of New York, Downstate Medical Center, Residency in Neurology
Professional memberships
American Academy of Neurology
American College of Neuropsychiatrists
American Osteopathic Association
Patient reviews
All reviews have been submitted by patients after seeing the provider.
I have been seeing Dr Yellin for years and he is always fantastic - thorough, interested, will spend as much time as needed.
March 27, 2014 Sherry A.
Great office staff, He is a wonderful DR. I will Highly Recommended him.
Less than 3 months ago
Dr Joseph Yellin was very knowledgeable and honest. He set up the tests for me and introduced me to the speech therapist.
April 23, 2015 Ronald L.
Dr Yellin was very thorough in his evaluation and has been helpful with needed follow-up.
January 31, 2020 Pierre-andre D.
An amazing doctor with such a great bedside manner. He really evaluated me thoroughly and put me at ease!! The best.
August 14, 2014
Asides the wait time, everything else was perfect. Dr Yellin made me feel comfortable and paid good attention.
More than 1 year agoIjeoma O.
Very relaxing experience. Factual communication between patient and doctor.
More than 1 year ago Anne M.
Professional. Thorough. Good bed-side manner. Good listener. Nice offices. Friendly staff.
September 3, 2016
He was very warming friendly doctor and very professional knowledgeable
May 9, 2017 Andre G.
It was my first consult, so I was extremely nervous, but I thoroughly enjoyed my visit. The receptionist was very patient with me, and I was seen around 20 minutes early. Dr. Yellin was very sweet, and took his time to explain to me the side effects of what he was giving to me. Also, I appreciated the small but peaceful office. Definitely plan on coming back for a follow-up.
June 28, 2017 Maria A.